Fuel flow and vent are good, I also checked for air leaks and did not find any... so far...
I am thinking I need to replace the distributor as well as the timing seems to move around a fair amount.
Aside from that... I think I have found an idea for how to fit Australian rear arms in my English moke and keep the little wheeler look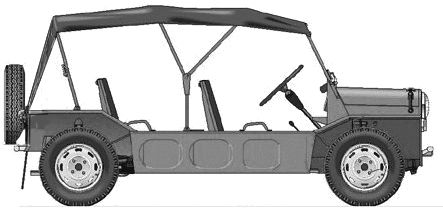 An image from the web I modified to show my idea.
I am thinking of extending the bodywork slightly to move the rear panel back far enough to clear the larger tires. I think it could be done smooth enough to still look like a stock little wheeler if it isn't sitting next to another moke. If anything it would only add 2 inches to the load bay which could be mostly hidden by some form of storage box.
... Oh, and the camper trailer I am thinking of building to tow with the moke...
Also borrowed from the web and modified
Chris